The City of Oxnard is planning a residential and commercial development
project on land currently used for agriculture, north of the OXNARD AIRPORT
at Ventura Rd. to Teal Club Rd to Patterson Rd, to Doris Ave.
It will be 990 residential units, with single(220) and multi-family(770) units,
and some commercial and light industrial use areas.
https://www.oxnard.org/city-department/community-development/planning/environmental-documents/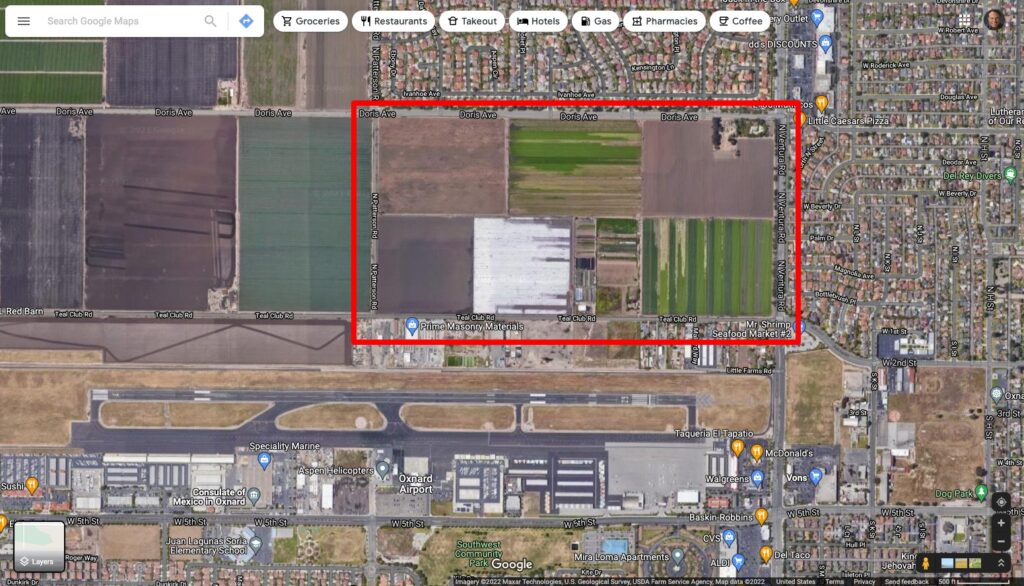 The TCSP Specific Plan would involve development on the 149.72-acre area north of Teal Club Road (known locally as "Teal Club"). Development of the TCSP area would involve construction of up to 990 single and multifamily residential units (of which approximately 148 would be affordable housing units); 

development of up to 132,000 gross square feet (gsf) of business park; 

up to 60,000 square feet of Urban Village commercial space; 

17.76 acres of community and neighborhood parks and open space; 

new and widened on- and off-site arterials and collector streets; 

utility infrastructure including complete recycled water irrigation; 

resident and visitor parking; bicycle and pedestrian paths and sidewalks; bus transit stops; 

various pocket parks and resident recreation areas; and landscaping within the individual residential projects.